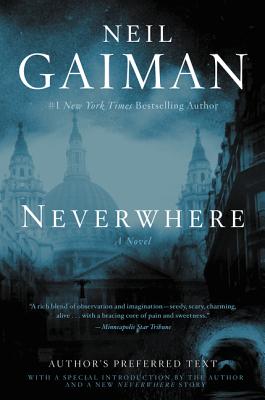 $26.99

Usually Ships in 1-5 Days
Description
---
The #1 New York Times bestselling author's ultimate edition of his wildly successful first novel featuring his "preferred text"—and including the special "Neverwhere" tale "How the Marquis Got His Coat Back."
Published in 1997, Neil Gaiman's darkly hypnotic first novel, Neverwhere, heralded the arrival of this major talent and became a touchstone of urban fantasy. Over the years, a number of versions were produced both in the U.S. and the U.K. Now, this author's preferred edition of his classic novel reconciles these versions and reinstates a number of scenes cut from the original published books.
Neverwhere is the story of Richard Mayhew, a young London businessman with a good heart and an ordinary life, which is changed forever when he is plunged through the cracks of reality into a world of shadows and darkness—the Neverwhere. If he is ever to return to the London Above, Richard must join the battle to save this strange underworld kingdom from the malevolence that means to destroy it.
About the Author
---
Neil Gaiman is a #1 New York Times bestselling author of books for children and adults whose award-winning titles include Norse Mythology, American Gods, The Graveyard Book, Good Omens (with Terry Pratchett), Coraline, and The Sandman graphic novels. Neil Gaiman is a Goodwill Ambassador for UNHCR and Professor in the Arts at Bard College.
Praise For…
---
"For those who have not read Neverwhere, the new edition is the one to read ... readers can experience this spellbinding, magical world the way that Neil Gaiman wanted us to all along." — Huffington Post
"For those who have never been to Neverwhere, it's time to go. For those who may have traveled once before, this new edition is calling out to you. There is more to see, hear and learn." — Suspense Magazine
You are here
Neverwhere: Author's Preferred Text (Hardcover)