You are here
Back to top
Bloop (Hardcover)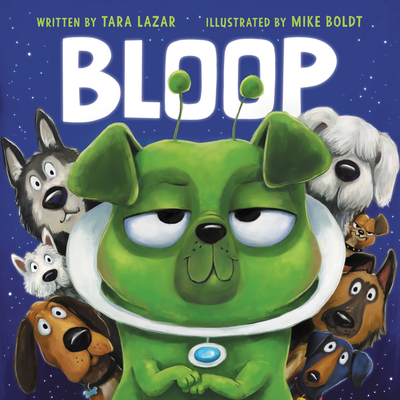 $17.99
Email or call for price
Description
---
Bloop, the little green alien, must conquer Earth, and his first step is figuring out who's in charge. The answer? Dogs! This picture book about an alien who looks like a pug is laugh-out-loud funny—and full of heart, too! The perfect story for dog lovers!
In his quest to become the next Emperor of Planet XYZ, Bloop makes too many bloopers. So he's sent to Earth to conquer that crazy planet first. Who's in charge there? One visit to the park and Bloop knows: dogs, of course!
Bloop tries to master these maddening mutts and prove that he's top dog. But once Bloop gets a taste of the good life on Earth, what will he do when he's summoned back to XYZ? Readers will cheer as the little puglike alien realizes the love of family makes Earth his real home.
Tara Lazar's hilarious text perfectly pairs with Mike Boldt's vibrant art in this picture book about an alien who finally finds where he belongs.  
About the Author
---
Tara Lazar writes quirky, humorous picture books featuring far-out places and zany characters. Her titles include 7 Ate 9: The Untold Story; The Monstore; Little Red Gliding Hood; Three Ways to Trap a Leprechaun; and many more. Tara lives in New Jersey with her husband and two daughters—but, sadly, no alien dog. Visit her online at www.taralazar.com.
Mike Boldt is an author-illustrator living in rural Alberta, Canada, with his wife, three children, an Earth dog, and a random number of alien cats. His books include Bad Dog, A Tiger Tail (or What Happened to Anya on Her First Day of School), 123 versus ABC, Colors versus Shapes, and I Don't Want to Be a Frog by Dev Petty. Visit him online at www.mikeboldt.ca.