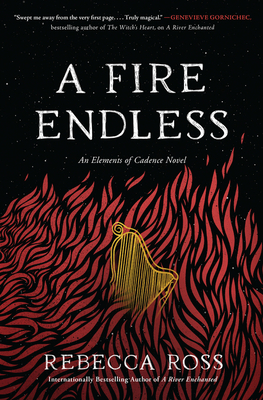 $27.99

Usually Ships in 1-5 Days
Description
---
"At once a fast-paced mystery and a love story as warm as a hearth . . . This is a classic in the making." — Ava Reid, internationally bestselling author of The Wolf and the Woodsman, on A River Enchanted
The #1 New York Times bestselling author of Divine Rivals returns to the magical isle of Cadence to find the balance between the human and faery realms imperiled in this stunning conclusion to the Elements of Cadence duology that began with A River Enchanted
East and west. Humans and spirits. Breccans and Tamerlaines. The Isle of Cadence has always held itself in a tenuous balance. But now Bane, the spirit of the North Wind, has pushed everything off-kilter in a bid to claim dominion over human and spirit alike.
In the east, a sickness is spreading among the people of the Tamerlaine clan. As healer Sidra desperately searches for a cure, her husband, Torin, the clan's new leader, attempts to draw answers from the spirits. But the further he strays into the realm of the elementals, the more lost he and the clan become. In the west, Jack decides to take up his harp and cross the clan line, not only to reunite with Adaira, but to unravel a sinister mystery that would grant him the knowledge to defeat Bane and restore peace to the isle. Yet no one can challenge the North Wind without paying a price, and the sacrifice required this time may just be the ultimate one.
Rebecca Ross weaves an enchanting tapestry of mystery and magic, love and sacrifice, in this thrilling conclusion to the Elements of Cadence duology.
About the Author
---
Rebecca Ross writes fantasy novels for teens and adults. She lives in the Appalachian foothills of Northeast Georgia with her husband, a lively Australian Shepherd, and an endless pile of books. When not writing, she can be found reading or in her garden, where she grows wildflowers and story ideas. Find her on Instagram @beccajross.
Praise For…
---
"This novel is richer and better than the first in the series, building on and adding to the deep elemental world that Ross has constructed and supported by well-forged, believable relationships and friendships. The twists are compelling, the narrative developments are well paced, and the way everything comes together is satisfyingly neat while still feeling unexpected. Ross has skillfully brought her duology to an exciting and emotional end." — Booklist (starred review)
"Ross creates a magical story with lyrical prose that draws the reader into the tale and its setting. Recommend this series to fans of Jeffe Kennedy, Susanna Clarke, and Terry Brooks." — Library Journal
"A confident, compelling conclusion to the Elements of Cadence series….will satisfy fantasy fans, romance lovers, and those who enjoy folklore-inspired tales." — Paste Magazine
"Ross has built a fully realized world clearly inspired by Scottish myth and legend and thick with heroes. . . A rich fantasy of bards and bairns in which the magical island setting becomes the main character." — Kirkus Reviews (starred review) on A River Enchanted
"A sublime mix of romance, intrigue and myth, A River Enchanted is a stunning addition to the canon of Celtic-inspired fantasy. With its lyrical prose and tight world building, this story is both modern and timeless, drawing from the traditions of genre greats like Steven Lawhead and marrying them to the sensibilities of modern works like Genevieve Gornichec's The Witch's Heart and Tana French's In the Woods." — BookPage (starred review)
"Vividly imagined . . . This will appeal to lovers of fantasy from Name of the Wind to the Earthsea series." — Publishers Weekly on A River Enchanted
"With lush worldbuilding and lyrical prose, A River Enchanted feels like the echo of a folktale from a world right next to our own." — Hannah Whitten, New York Times bestselling author of For the Wolf 
"An alluring and rich tale, at once a fast-paced mystery and a love story as warm as a hearth. Like music, it will bewitch your senses, carrying you to the wind-swept hills and effervescent waters of the isle of Cadence. A River Enchanted made me homesick for places I've never been. This is a classic in the making." — Ava Reid, internationally bestselling author of The Wolf and the Woodsman
You are here
A Fire Endless: A Novel (Elements of Cadence #2) (Hardcover)