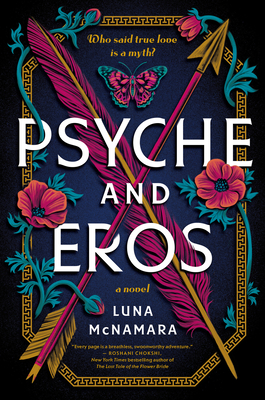 $30.00

Usually Ships in 1-5 Days
July 2023 Indie Next List
---
"A lovely tale of different forms of love. Female heroine, Psyche, is strong, sure of herself, and brave. Eros makes us question what makes life worth living and how love affects us. Together, it's a love story that will wrap you in its arms."
— Baylee Miller, Schuler Books (Grand Rapids), Grand Rapids, MI
Description
---
"A riotous adventure through the ages of Greek mythology, populated by a cast of vivid, glittering characters. Luna McNamara strikes the perfect note of irreverent humor and furious emotion in this fabulous novel. An absolute joy!" — JENNIFER SAINT, bestselling author of Ariadne and Elektra
The god of desire is cursed to fall for a spirited young mortal woman, but if she looks upon his face they will be parted forever in this utterly transporting reimagining of Greek mythology—an epic adventure and love story for the ages, sure to satisfy fans of Madeline Miller and V.E. Schwab
Who said true love is a myth?
A prophecy claims that Psyche, princess of Mycenae, will defeat a monster feared even by the gods. Rebelling against her society's expectations for women, Psyche spends her youth mastering blade and bow, preparing to meet her destiny.
When Psyche angers the love goddess Aphrodite, she sends Eros, god of desire, to deliver a cruel curse. After eons watching humanity twist his gifts, the last thing Eros wants is to become involved in the chaos of the mortal world. But when he pricks himself with the arrow intended for Psyche, Eros finds himself doomed to yearn for a woman who will be torn from him the moment their eyes meet.
Thrown together by fate, headstrong Psyche and world-weary Eros will face challenges greater than they could have ever imagined. And as the Trojan War begins and divine powers try to keep them apart, the pair must determine if the curse could become something more . . . before it's too late.
A joyous and subversive tale of gods, monsters, and the human heart and soul, Psyche and Eros dazzles the senses while exploring notions of trust, sacrifice, and what it truly means to be a hero. With unforgettably vivid characters, spellbinding prose, and delicious tension, Luna McNamara has crafted a shimmering and propulsive debut novel about a love so strong it defies the will of Olympus.
"An enthralling tale of adventure, romance, and star-crossed lovers." — SUE LYNN TAN, bestselling author of Daughter of the Moon Goddess
"Startlingly lovely. This is Greek mythology as it's meant to be told—witty, indulgent, deeply felt." — GRACE D. LI, New York Times bestselling author of Portrait of a Thief
"Every page is a breathless, swoonworthy adventure." — ROSHANI CHOKSHI, New York Times bestselling author of The Last Tale of the Flower Bride
About the Author
---
LUNA McNAMARA is a social worker living in Boston. She holds a master's degree from Harvard University with a focus in women and gender in world religions and has studied ancient Greek language and philosophy. Her fiction and creative nonfiction have been published in Rune Bear and the Harvard Divinity Bulletin. Psyche and Eros is her first novel.
Praise For…
---
"This is a riotous adventure through the ages of Greek mythology, populated by a cast of vivid, glittering characters. Luna McNamara strikes the perfect note of irreverent humor and furious emotion in this fabulous novel. An absolute joy!" — Jennifer Saint, bestselling author of Ariadne and Elektra
"Startlingly lovely. Reading Psyche and Eros feels like starting down a familiar path, only to discover endless new wonders along the way. This is Greek mythology as it's meant to be told—witty, indulgent, deeply felt." — Grace D. Li, New York Times bestselling author of Portrait of a Thief
"Psyche and Eros refigures for our times a classic tale of disguise and revelation, of improbable passion tested by fate. Myth itself has many guises, and in Luna McNamara's poetic and nervy retelling we get a new glimpse of how love strengthens perception and perception, love." — Gregory Maguire, New York Times bestselling author of Wicked
"A beautiful retelling, breathing new life into a beloved myth. Luna McNamara weaves an enthralling tale of adventure, romance, and star-crossed lovers, in an enchanting world of ancient gods and legends." — Sue Lynn Tan, bestselling author of Daughter of the Moon Goddess
"Luna McNamara's sweeping retelling adds a gorgeous luster and depth to a beloved myth. Every page is a breathless, swoonworthy adventure, proving that in the hands of a talented storyteller, ancient tales always have something new to offer." — Roshani Chokshi, New York Times bestselling author of The Last Tale of the Flower Bride and The Gilded Wolves series
"Evocative and lyrically spun, Luna McNamara's Psyche and Eros is a pure delight. Bright as a constellation on a moonless night, this reimagining limns the ancient myth while also granting us vibrant insight into the hearts of both Psyche and Eros. Romantic, poignant, and spellbinding." — Rebecca Ross, New York Times bestselling author of A River Enchanted 
"This is a fabulously entertaining retelling, full of magic, humor and heart. I raced through the pages, which were packed with adventure. Psyche is a wonderfully spiky heroine, Eros is just as romantic as you would want the god of Love to be, and I absolutely adored the many cameos of Classical mythology's most famous gods and characters. Fresh, funny and fabulous, this is a book to sit back and enjoy."  — Elodie Harper, internationally bestselling author of the Wolf Den trilogy
"Fiercely feminist and deeply romantic, Psyche and Eros has the allure of an old fable and the epic quality of ancient myth, tinged with a provocative, modern wit. Passionate and deftly-told." — Ava Reid, bestselling author of The Wolf and the Woodsman 
"Like Prometheus, Luna McNamara has infused life into the myth of Psyche and Eros in this spirited and fresh retelling. One simply falls into the pages and is taken along on a fun, imaginative ride that is as full of twists and turns as it is brimming with love and heart." — Katherine J. Chen, author of Joan
"Delightful . . . A tender, meditative, bittersweet tale of one of literature's most ancient themes: love unfolding through self-discovery in the face of death." — Maya Deane, author of Wrath Goddess Sing
"In this fresh retelling of the Greek myth, a rebellious woman spends her life training for a fated battle — until she meets the god of desire, who falls for her after accidentally pricking himself with one of his own arrows, and must team up with him as the Trojan War rises around them." — Gizmodo
"If mythological romances are your style, then pick up Psyche and Eros by Luna McNamara. Psyche, a princess of Mycenae, is prophesied to defeat a monster that even the gods fear, and she spends her early life training as a warrior to meet her destiny. When Psyche angers Aphrodite, the goddess sends Eros, god of desire, to enact a terrible curse. Instead, Eros pricks himself with the arrow meant for Psyche, dooming himself to yearn for a woman he cannot have. Together, the pair will face seemingly insurmountable challenges, and the looming Trojan War could tear them apart before they have the chance to find out what they could be if they were free." — Popsugar, New Fantasy Books to Add to Your Magical Reading List
"McNamara writes interesting characters and fleshes this myth out in a way that adds meaningfully to the current trend of exploring the lives of women in antiquity." — Book Riot
"Delightful . . . Psyche and Eros is a fierce example of the power of love, fidelity, and determination . . . McNamara takes ancient mythology and, making judicious alterations, creates something that is recognizable yet new and, yes, more modern. McNamara is following in the tradition of Euripides and Apuleius – bringing myths into the contemporary world – and I for one am here for it." — Alexandra Pierce, Locus
"McNamara's debut novel will mesmerize readers with its unique and subversive take on gods, monsters and the human heart." — Booktrib
"A classic love story for the ages that McNamara adapts into an unputdownable book. . . . Readers who have enjoyed Madeline Miller's and Jennifer Saint's retelling of Greek myths will enjoy this novel. The text is beautiful and poetic, immersing the reader into the world of ancient Greece, while still reading like a modern novel. A must-read for fans of Greek mythology adaptations, this book is enjoyable, poignant, and beautifully written." — Library Journal
"Debut author McNamara revitalizes the classic myth with versatile prose and skillful world building, enmeshing her main characters' lives with those of other Greek tales and in turn giving readers access to a broad swath of rich mythology. . . . What sets this retelling apart and will no doubt endear it to readers is McNamara's unparalleled imagination, which folds a great many established myths into one cohesive narrative. The result is a multifaceted story full of rich nuance that will definitely require several rereads to fully capture." — Booklist
"A captivating, feminist retelling of the classical Greek myth. . . . McNamara's prose transports you to another time and place, perfectly capturing the magic and mystery of ancient mythology. A beautifully crafted novel that will enchant fans of Greek mythology and romance alike." — Glamour (UK)
"Perfect for fans of Greek mythology authors Madeline Miller and Jennifer Saint, Psyche and Eros retells a great Ancient Greek love story." — Cosmopolitan (UK)
"Luna McNamara's captivating retelling of the love story between Psyche and Eros takes inspiration from Greek and Roman mythology, whilst putting a fresh spin on fabled gods and famous legends of classical literature. . . . A sweeping novel that combines light romance, heroic adventures and thoughtful allegories. . . .  If you're searching for something that switches up popular myths and offers up a modern angle on classical characters, Psyche and Eros more than delivers." — Culturefly (UK)
You are here
Psyche and Eros: A Novel (Hardcover)