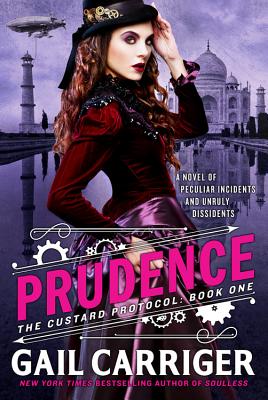 $15.99

Usually Ships in 1-5 Days
Description
---
From NYT bestselling author Gail Carriger comes a witty adventure about a young woman with rare supernatural abilities travels to India for a spot of tea and adventure and finds she's bitten off more than she can chew.

When Prudence Alessandra Maccon Akeldama ("Rue" to her friends) is bequeathed an unexpected dirigible, she does what any sensible female under similar circumstances would do -- she christens it the Spotted Custard and floats off to India.

Soon, she stumbles upon a plot involving local dissidents, a kidnapped brigadier's wife, and some awfully familiar Scottish werewolves. Faced with a dire crisis (and an embarrassing lack of bloomers), Rue must rely on her good breeding -- and her metanatural abilities -- to get to the bottom of it all. . .
About the Author
---
New York Times bestselling author Gail Carriger writes to cope with being raised in obscurity by an expatriate Brit and an incurable curmudgeon. She escaped small town life and inadvertently acquired several degrees in Higher Learning. Ms. Carriger then traveled the historic cities of Europe, subsisting entirely on biscuits secreted in her handbag. She resides in the Colonies, surrounded by fantastic shoes, where she insists on tea imported from London.
Praise For…
---
"Blending steampunk and urban fantasy in a colorful alternate Victorian England, Carriger presents a grand cast of characters on a harrowing adventure that stretches from England to India... Filled with lavish fashions, supernatural high society, and witty dialogue, this story is a fine introduction to a fabulous new series."—Booklist on Prudence

"Carriger maintains a droll, tongue-in-cheek tone, and her protagonists are as concerned with witty banter and fashionable hats as they are with fighting for their lives. Series fans will enjoy this mischievous romp, which revisits old favorites while raising a new crop of charming characters."—Publishers Weekly on Prudence

"Readers who delighted in Carriger's Parasol Protectorate will be entranced by the familiar cast and trademark wit of the new Custard Protocol series...Behind the delightful whimsy and snarky observations, there is a great deal of heart and soul."—RT Book Reviews on Prudence

"The author's humor and affection for her outlandish characters is always appealing. A fun launch."—Library Journal on Prudence

"Soulless has all the delicate charm of a Victorian parasol, and all the wicked force of a Victorian parasol secretly weighted with brass shot and expertly wielded. Ravishing."—Lev Grossman

"The dialogue is as smart and snappy as ever, full of intelligent humor and artful verbal sparring."—All Things Urban Fantasy on Changeless

"Changeless is equal to Soulless: witty, sexy, graceful, and unpredictable. With a few more novels, this delightful, Ms. Carriger will be challenging Laurell K. Hamilton and Charlaine Harris for the top of the New York Times bestseller lists."—Fantasy Magazine on Changeless

"Carriger delivers surprises with every book, and this one is no exception. With action, intrigue, and above all, proper manners, this excellent series will have broad appeal to readers of steampunk, urban fantasy, and paranormal and historical romance."—Library Journal on Heartless

"The world of Timeless is a unique recipe of steampunk and fantasy spiced with light sprinkling of romance. Its setting is rich for characters to romp about in, but the unbridled playfulness of the language and dialogue shines brightest."—The Miami Herald
You are here
Prudence (The Custard Protocol #1) (Paperback)