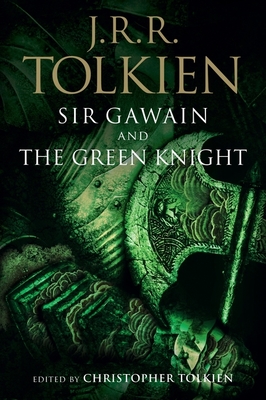 $16.99

Usually Ships in 1-5 Days
Description
---
SIR GAWAIN AND THE GREEN KNIGHT, PEARL, AND SIR ORFEO
THREE MEDIEVAL ENGLISH POEMS, WITH TRANSLATION AND COMMENTARY BY J.R.R. TOLKIEN
 
It's Christmas at Camelot and King Arthur won't begin to feast until he has witnessed a marvel of chivalry. A mysterious knight, green from head to toe, rides in and brings the court's wait to an end with an implausible challenge to the Round Table: he will allow any of the knights to strike him once, with a battle-axe no less, on the condition that he is allowed to return the blow a year hence. Arthur's brave favorite for the challenge is Sir Gawain…
 
Accompanying Sir Gawain and the Green Knight in this book are Sir Orfeo, a medieval version of the story of Orpheus and Euridice, a love so strong that it overcame death, and Pearl, the moving tale of a man in a graveyard mourning his baby daughter, lost like a pearl that slipped through his fingers. Worn out by grief, he falls asleep and dreams of meeting her in a bejewelled fantasy world.
 
Interpreted in a form designed to appeal to the general reader, J.R.R. Tolkien's vivid translations of these classic poems represent the complete rhyme and alliterative schemes of the originals. This beautifully decorated text includes as a bonus the complete text of Tolkien's acclaimed lecture on Sir Gawain.
About the Author
---
J.R.R. TOLKIEN (1892-1973) was a distinguished academic, though he is best known for writing The Hobbit, The Lord of the Rings and The Silmarillion, plus other stories and essays. His books have been translated into over 60 languages and have sold many millions of copies worldwide.
CHRISTOPHER TOLKIEN (1924–2020) was the third son of J.R.R. Tolkien. Appointed by Tolkien to be his literary executor, he devoted himself to the editing and publication of unpublished writings, notably
The Silmarillion, Unfinished Tales,
and
The History of Middle-earth.
You are here
Sir Gawain And The Green Knight, Pearl, And Sir Orfeo (Paperback)