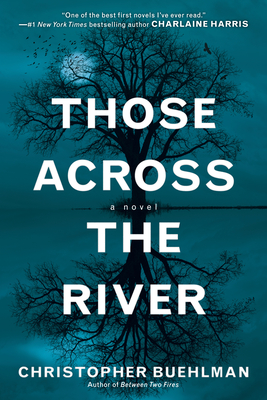 $17.00

Usually Ships in 1-5 Days
Description
---
A man must confront a terrifying evil in this captivating horror novel that's "as much F. Scott Fitzgerald as Dean Koontz."*

Haunted by memories of the Great War, failed academic Frank Nichols and his wife have arrived in the sleepy Georgia town of Whitbrow, where Frank hopes to write a history of his family's old estate—the Savoyard Plantation—and the horrors that occurred there. At first their new life seems to be everything they wanted. But under the facade of summer socials and small-town charm, there is an unspoken dread that the townsfolk have lived with for generations. A presence that demands sacrifice.

It comes from the shadowy woods across the river, where the ruins of the Savoyard Plantation still stand. Where a long-smoldering debt of blood has never been forgotten.

Where it has been waiting for Frank Nichols....
About the Author
---
Christopher Buehlman is a novelist, screenwriter and comedian from St. Petersburg, Florida. His first novel, Those Across the River, was a finalist for best novel at the 2012 World Fantasy Awards and was recently named one of NPR's 100 Favorite Horror Stories. His fourth novel, The Lesser Dead, was the RUSA Reading List selection for best horror novel in 2015 and was a Shirley Jackson Award finalist. His poem "Wanton" won the coveted Bridport Prize for poetry in 2007. He is the author of the segment "The Man in the Suitcase" for Shudder's 2019 reboot of Creepshow. He spends most of the year touring with his acrobat wife, his one-eyed dog and his black cat, Jane Mansfield, who is trained in ninjutsu.
Praise For…
---
PRAISE FOR THOSE ACROSS THE RIVER
One of Publishers Weekly's Top-Ten SF, Fantasy & Horror Novels
A World Fantasy Award Nominee for Best Novel

"One of the best first novels I've ever read."—Charlaine Harris, #1 New York Times bestselling author

"What a treat. Terrible and beautiful. As much F. Scott Fitzgerald as Dean Koontz. A graceful, horrific read."—*Patricia Briggs, #1 New York Times bestselling author

"Wonderfully eerie from start to finish—a novel sure to enthrall readers of all stripes."—Grant Blackwood, New York Times bestselling author
 
"An unsettling brew of growing menace spiked with flashes of genuine terror—do not miss this chilling debut. Christopher Buehlman is a writer to watch. I look forward to hearing from him again. And soon." —F. Paul Wilson, New York Times bestselling author

"Lures you into a different era, seduces you with eloquent prose and sensual period details, then clamps down on your jugular…An outstanding debut."—Hank Schwaeble, Bram Stoker Award-winning author

"Beautifully written...with a cast of Southern characters so real you can almost see the sweat roll down the page. The ending is exceedingly clever."—Boston Herald

"Buehlman's lyrical prose vividly captures a landscape made familiar by William Faulkner and Flannery O'Connor. A delightfully genre-bending juxtaposition of supernatural horror and gothic drama."—California Literary Review

"A horror story that manages just the right balance between building dread and suspense and delivering action."—The A.V. Club

"Sublimely crafted...It is clear that Mr. Buehlman brings his poetic background to bear in creating the rhythm and meter of the story...A well-crafted novel that is a pleasure to read."—New York Journal of Books

"[A] masterful debut novel…Buehlman's prose is moody and lush…[A] spellbinding tale of terror…Those Across the River is filled with cowardice and bravery, foolishness and wisdom, grief and grace, and, alas, helplessness and beauty. Buehlman has written one of the best books of the year."—Shelf Awareness

"Buehlman delivers a creepy, suspenseful, and well-crafted debut set in post-Depression era South. The action begins early and never lets up. Recommended for horror fans and those willing to be scared enough to want to stay out of the woods."—Library Journal

"In its unnerving depiction of small-town creepiness and heathen savagery, this surefooted debuut resembles nothing more than Thomas Tryon's Harvest Home...Viscerally upsetting...This is lusty, snappy writing, and horror fans will eat it up (or vice versa)."—Booklist

"Buehlman packs suspense and secrets into his debut nove...Keep[s] readers on their toes right up until the big reveal."—Publishers Weekly

"Fans of novels like Salem's Lot or classic radio dramas will find this story impossible to put down...[It] feels completely fantastical by our rational minds but believable by our deepest fears."—Suspense Magazine
You are here
Those Across the River (Paperback)