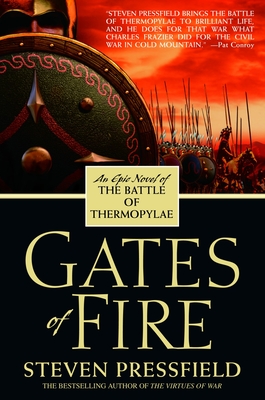 $18.00

Usually Ships in 1-5 Days
Description
---
NATIONAL BESTSELLER • "Steven Pressfield brings the battle of Thermopylae to brilliant life."—Pat Conroy

At Thermopylae, a rocky mountain pass in northern Greece, the feared and admired Spartan soldiers stood three hundred strong. Theirs was a suicide mission, to hold the pass against the invading millions of the mighty Persian army.

Day after bloody day they withstood the terrible onslaught, buying time for the Greeks to rally their forces. Born into a cult of spiritual courage, physical endurance, and unmatched battle skill, the Spartans would be remembered for the greatest military stand in history—one that would not end until the rocks were awash with blood, leaving only one gravely injured Spartan squire to tell the tale. . . .
About the Author
---
Steven Pressfield is the author of the hugely successful historical novels Gates of Fire, Tides of War, and Last of the Amazons. His debut novel, The Legend of Bagger Vance, was made into a movie starring Matt Damon and Will Smith in 2000. He lives in California.
Praise For…
---
"Gripping and swashbuckling . . . an exciting, romantic, star-crossed story."—The New York Times

"An incredibly gripping, moving, and literate work of art. Rarely does an author manage to re-create a moment in history with such mastery, authority, and psychological insight."—Nelson DeMille

"A novel that is intricate and arresting and, once begun, almost impossible to put down."—New York Daily News

"A timeless epic of man and war . . . Pressfield has created a new classic deserving of a place beside the very best of the old."—Stephen Coonts

"Steven Pressfield brings the battle of Thermopylae to brilliant life, and he does for that war what Charles Frazier did for the Civil War in Cold Mountain."—Pat Conroy
You are here
Gates of Fire: An Epic Novel of the Battle of Thermopylae (Paperback)