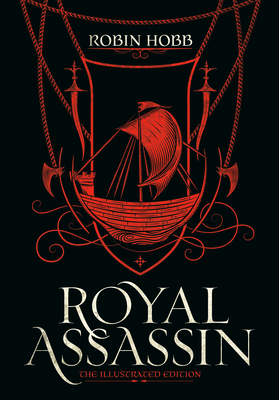 $35.00

Usually Ships in 1-5 Days
Description
---
In hardcover for the first time ever! A richly illustrated anniversary edition from the beloved Farseer Trilogy, hailed by George R. R. Martin as "fantasy as it ought to be written," and Lin-Manuel Miranda as "an incredible series."

FitzChivalry Farseer and the Fool are back again in book two of the beloved saga, full of adventure, magic, and sinister plots. A quarter-century after the original publication of the Farseer Trilogy, these special editions present Robin Hobb's modern classics as never before: in gorgeous hardcover editions, with ten beautiful full-color illustrations by Magali Villeneuve.

Fitz has barely survived his first hazardous mission as king's assassin. Battered and bitter, he vows to abandon his oath to King Shrewd and to remain in the distant mountains. But love and events of terrible urgency draw him back to the court at Buckkeep, and into the deadly intrigues of the royal family.

Renewing their vicious attacks on the coast, the Red-Ship Raiders leave burned-out villages and demented victims in their wake. The kingdom is also under assault from within, as treachery threatens the throne of the ailing king. In this time of great danger, the fate of the kingdom may rest in Fitz's hands—and his role in its salvation may require the ultimate sacrifice.
About the Author
---
Robin Hobb is the author of the Farseer Trilogy, the Liveship Traders Trilogy, the Tawny Man Trilogy, the Soldier Son Trilogy, and the Rain Wilds Chronicles. She has also written as Megan Lindholm. She is a native of Washington State.

Magali Villeneuve has been an illustrator for well over a decade, and started by painting book covers in France, her home country. She now works for many different companies and publishing houses around the world, including Wizards of the Coast, Titan Publishing, Dynamite Comics, Valve Corporation, and Fantasy Flight Games. Her work has been featured in role-playing games, video games, collectible cards games, magazines, and book covers. She has done work in the universes of George R. R. Martin's A Song of Ice and Fire, Magic: The Gathering, Dungeons & Dragons, The Lord of the Rings, Star Wars, and more. She is also the author of the dark fantasy book series La Dernière Terre in France.
You are here
Royal Assassin (The Illustrated Edition) (Farseer Trilogy #2) (Hardcover)