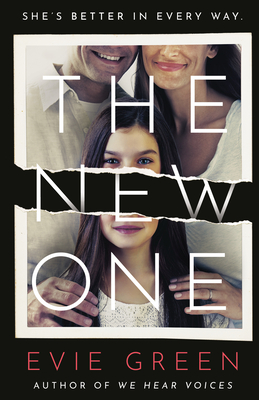 $17.00

Usually Ships in 1-5 Days
Description
---
A suspenseful, cutting-edge novel about two parents who finally get the daughter they've always wanted—it's too bad she isn't real. From the author of We Hear Voices.

For Tamsyn and Ed, life is tough. They both work long hours for very little money and come home to their moody, rebellious daughter, Scarlett.

After a tragic accident leaves Scarlett comatose and with little chance of recovery, Tamsyn and Ed are out of options until a lifeline emerges in the form of an unusual medical trial. In exchange for the very best treatment for Scarlett, a fully furnished apartment, and a limitless spending account, the family must agree to move to Switzerland and welcome an artificial copy of their daughter into their home.

Suddenly their life is transformed. Tamsyn and Ed want for nothing, and the AI replacement, Sophie, makes it feel just like having their daughter back—except without all the bad parts. Sophie is engaged, happy, and actually wants to spend time with her parents.

But things take a turn for the worse when Scarlett makes a very real recovery and the family discovers that the forces behind their new life are darker than they ever could have imagined.
About the Author
---
Evie Green is a pseudonym for a British author who has written professionally for her entire adult life. She lives by the sea in England with her husband, children, and guinea pigs, and loves writing in the very early morning, fueled by coffee.
Praise For…
---
Praise for The New One

"The New One is deliciously disturbing, engrossing and surprising at its every turn. This not-to-be-missed novel of family dynamics and what it really means to be human and to love is both pleasurably escapist and thought-provoking."
—Shelf Awareness

"...[E]erie psychological technothriller."
—CrimeReads

"The New One is an exquisitely crafted thriller, but also an intimate portrait of a family facing the impossible."
—New York Journal of Books

"Five stars for making me read past my bedtime more than once! Highly recommended for fans of near-future sci-fi with shades of horror and thriller that explores what hasn't happened yet, but maybe could."
—The Plain-Spoken Pen

"What a different story! It was edgy, immersive, speculative and addicting! What is more is that I loved how nothing was as it seemed, especially when talented author Evie Green began pulling out the shocking twists that simply left me breathless. This says a lot about me as this mixed genre of science fiction and horror is completely out of my wheelhouse, but boy did I love this book!"
—Robin Loves Reading

Praise for Evie Green's We Hear Voices:

"Prepare for major goosebumps."
—PopSugar
 
"The must-have for any horror fan."
—Marie Claire

"An electrifying science fiction thriller."
—Publisher's Weekly (starred review)

"Dark Matter meets The Shining."
—Hasty Book List

"Compelling, addictive and a perfect example of how we use stories to understand ourselves, the world, and our collective social experiences."
—Anna Downes, author of The Safe Place

"Deliciously chilling, this is also a book filled with heart."
—C. J. Cooke, author of The Nesting

"A fusion of horror and social commentary that chills."
—Kirkus

"Incredibly immersive."
―Shelf Awareness

"An absorbing thriller with a big heart."
―BookReporter.com
You are here
The New One (Paperback)