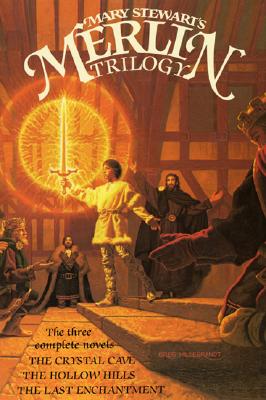 $29.99

Usually Ships in 1-5 Days
Description
---
The Arthurian legend is one of the most enduring and powerful of myths, and Mary Stewart's classic The Merlin Trilogy is one of its most beloved and acclaimed retellings. In prose that is as vividly, achingly real as it is poetic, New York Times bestselling author Mary Stewart brings to life the man behind the myth: Myrddin Emrys ... Merlinus Ambrosius ... Merlin.
The Crystal Cave
The Hollow Hills
The Last Enchantment
Born the bastard son of a Welsh princess, Myrddin Emrys -- or, as he would later be known, Merlin -- leads a perilous childhood in The Crystal Cave, haunted by portents and visions. But destiny has great plans for this no-man's-son, taking him from prophesying before the High King Vortigern to the crowning of UtherPendragon ... and the conception of Arthur -- king for once and always.
Keeping watch over the young Arthur Pendragon in The Hollow Hills, the prince and prophet Merlin Ambrosius is haunted by dreams of the magical sword Caliburn, hidden for centuries. When Uther Pendragon is killed in battle, the time of destiny is at hand, and Arthur must claim the fabled sword to become the true High King of Britain.
In The Last Enchantment, Arthur Pendragon is king at last. Unchallenged on the battlefield, he melds the country together in a time of promise as Merlin works to keep safe the once and future king. But sinister powers plot to destroy Camelot, and when the witch-queen Morgause -- Arthur's own half sister -- ensnares him in an incestuous liaison, a fatal web of love, betrayal, and bloody vengeance is woven.
Extensively researched and beautifully written, The Merlin Trilogy is the epic culmination of an acclaimed career, a legend in and of itself.
About the Author
---
Mart Stewart is one of the most widely read fiction writers of our time. The author of twenty novels, a volume of poetry, and three books for young readers, she is admired for both her contemporary stories of romantic suspense and her historical novels. Born in England, she has lived for many years in Scotland.
You are here
The Merlin Trilogy (Hardcover)