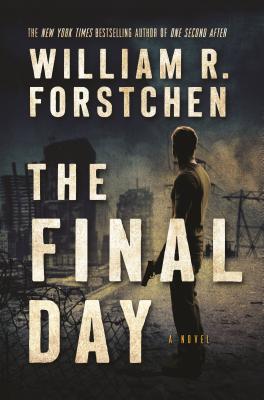 $19.99

Usually Ships in 1-5 Days
Description
---
A major release in the New York Times bestselling One Second After series, set in an alternate America rebuilding after an electromagnetic pulse, this is William R. Forstchen's The Final Day.

It's been more than two years since an EMP attack wiped out all electricity in the United States and plunged the country into darkness, starvation, and death. After fighting their fair share of battles in their North Carolina mountain town, John Matherson and the people in his community are beginning to restore the technologies and social order that existed prior to the EMP. Then the national government announces that it's ceding large portions of the country to China and Mexico; that the Constitution is no longer in effect; and that what's left of the US Army has been deployed to suppress rebellion in the remaining states.

The man sent to confront John Matherson is General Bob Scales, Matherson's old commanding officer and closest friend from prewar days. Will General Scales follow orders, or might he be the crucial turning point in the quest for a re-united America? When news breaks that members of the federal government knew the EMP attack was coming long before it hit, the government might get exactly what it fears: revolution.
About the Author
---
William R. Forstchen is the author of the New York Times bestseller One Second After and We Look Like Men of War, among numerous other books in diverse subjects ranging from history to science fiction. He has co-authored several books with Newt Gingrich, including Gettysburg: A Novel of the Civil War, Pearl Harbor, Days of Infamy, To Try Men's Souls and Valley Forge. Forstchen holds a Ph.D. in History from Purdue University, with specializations in military history and the history of technology. He is currently a Faculty Fellow and Professor of History at Montreat College, near Asheville North Carolina. He is a pilot and flies an original WWII recon "warbird." He resides near Asheville with his daughter Meghan.
Praise For…
---
"A fine postapocalyptic thriller, with richly drawn characters and the kind of story that we can easily imagine happening." --Booklist, on One Year After

"Forstchen is the prophet of a new Dark Age. The wise will listen." --Stephen Coonts, New York Times bestselling author, on One Year After

"True storytelling that only the rarest of writers ever master . . . Bill has perfected his talent." --David Hagberg, New York Times bestselling author, on One Year After

"A riveting cautionary tale." --Booklist, on One Second After

"An entertaining apocalyptic thriller." --Publishers Weekly, on One Second After

"The only thing more terrifying than this masterfully crafted story is the possibility of it actually happening--and not a damn thing being done to protect us." --W.E.B. Griffin & William E. Butterworth IV, New York Times bestselling authors, on One Second After

"Civilization slides into the abyss of a new dark age in this horrifying apocalyptic novel. Forstchen has put Bin Laden's dream on paper and, in the process, taken civilization straight to the rack." --Stephen Coonts, New York Times bestselling author, on One Second After

"Forstchen did such a damned fine job with One Second After that shortly after the first page, I had been reeled in hook, line, and sinker." --David Hagberg, New York Times bestselling author, on One Second After
You are here
The Final Day: A John Matherson Novel (Paperback)