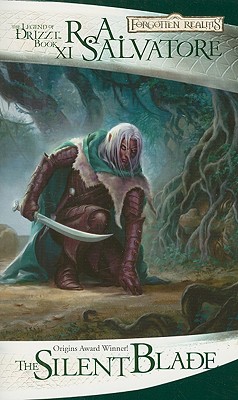 $7.99
Email or call for price
Description
---
A new chapter in the Legend of Drizzt saga begins: Can the Crystal Shard be destroyed at last?

Determined to destroy the evil Crystal Shard, Drizzt seeks out the help of a scholar-priest named Cadderly. But instead, his worst fears are realized when the artifact falls into the hands of the dark elf mercenary Jarlaxle and his unlikely ally Artemis Entreri.

Drizzt's friends also experience their own hardships: Wulfgar, now freed from Errtu's clutches, struggles with anger and bloodlust. Only in the far reaches of Luskan can he find solace from the torments that haunt him. Meanwhile, Regis' ruby pendant—once the property of his old master, Pasha Pook—seems to be a magnet for all things evil and wicked . . .

The Silent Blade is the first book in the Paths of Darkness series and the eleventh book in the Legend of Drizzt series.
About the Author
---
R.A. Salvatore was born in Massachusetts in 1959. He is the New York Times–bestselling author of more than forty novels, including the popular Forgotten Realms series, The Legend of Drizzt. His love affair with fantasy, and with literature in general, began during his sophomore year of college when he was given a copy of J.R.R. Tolkien's The Lord of the Rings as a Christmas gift. He promptly changed his major from computer science to journalism. He began writing seriously in 1982, penning the manuscript that would become Echoes of the Fourth Magic.

His first published novel was The Crystal Shard from TSR in 1988, and his novel The Silent Bladewon the Origins Award. He is still best known as the creator of dark elf Drizzt Do'Urden, one of fantasy's most beloved characters.
You are here
The Silent Blade: The Legend of Drizzt (Mass Market)