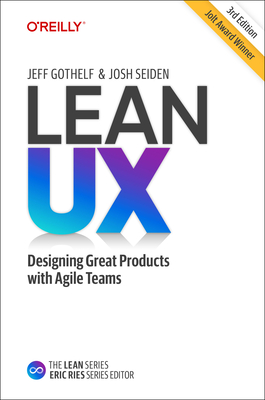 $49.99

Usually Ships in 1-5 Days
Description
---
Lean UX is synonymous with modern product design and development. By combining human-centric design, agile ways of working, and a strong business sense, designers, product managers, developers, and scrum masters around the world are making Lean UX the leading approach for digital product teams today.
In the third edition of this award-winning book, authors Jeff Gothelf and Josh Seiden help you focus on the product experience rather than deliverables. You'll learn tactics for integrating user experience design, product discovery, agile methods, and product management. And you'll discover how to drive your design in short, iterative cycles to assess what works best for businesses and users. Lean UX guides you through this change--for the better.
Facilitate the Lean UX process with your team with the Lean UX Canvas
Ensure every project starts with clear customer-centric success criteria
Understand the role of designer on an agile team
Write and contribute design and experiment stories to the backlog
Ensure that design work takes place in every sprint
Build product discovery into your team's "velocity"
About the Author
---
Jeff Gothelf helps organizations build better products and executives build the cultures that build better products. He is the co-author of the award-winning book Lean UX and the Harvard Business Review Press book Sense & Respond as well as the self-published Lean vs Agile vs Design Thinking and Forever Employable. Starting off as a software designer, Jeff now works as a coach, consultant and keynote speaker helping companies bridge the gaps between business agility, digital transformation, product management and human-centred design. Most recently Jeff co-founded Sense & Respond Press, a publishing house for practical business books for busy executives.Josh Seiden is a designer, author and coach who works with teams to create great products and services. He helps teams solve real problems for customers and create value for businesses.He also works as a coach to help teams improve the way they work, build more effective collaborations, and enjoy the journey of product development. He helps companies create the culture, processes and practices to do great work.He's a co-founder of Sense & Respond Press, a micro-publisher that creates short, beautiful books on innovation, digital transformation, and product management.In addition to "Lean UX," he's the author of Outcomes Over Output (S&R Press) and the co-author of Sense & Respond (from Harvard Business Publishing).
You are here
Lean UX: Designing Great Products with Agile Teams (Hardcover)