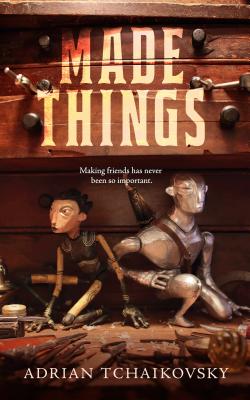 $14.99

Usually Ships in 1-5 Days
Description
---
Award-winning author Adrian Tchaikovsky's Made Things is dark fantasy tale of how the most unlikely characters may become the most heroic.

Making friends has never been so important.

Welcome to Fountains Parish--a cesspit of trade and crime, where ambition curls up to die and desperation grows on its cobbled streets like mold on week-old bread.

Coppelia is a street thief, a trickster, a low-level con artist. But she has something other thieves don't... tiny puppet-like companions: some made of wood, some of metal. They don't entirely trust her, and she doesn't entirely understand them, but their partnership mostly works.

After a surprising discovery shakes their world to the core, Coppelia and her friends must re-examine everything they thought they knew about their world, while attempting to save their city from a seemingly impossible new threat.
About the Author
---
Adrian Tchaikovsky is the author of the acclaimed Shadows of the Apt fantasy series and the epic science fiction blockbuster Children of Time. He has won the Arthur C. Clarke Award, a British Fantasy Society Award, and been nominated for the David Gemmell Legend Award. In civilian life he is a lawyer, gamer and amateur entomologist.
Praise For…
---
"Few contemporary writers have Adrian Tchaikovsky's range... Made Things is a thrilling parable about the abuse of power and the ability of the disenfranchised to effect change." —The Guardian

"Fleeting and rich, Made Things is the work of a highly skilled artist, almost certain to engender its reader with an enduring fondness."—Aurealis Magazine

"Thieves, mages, and miniature golems run afoul of each other in this charming novella set in a steampunk fantasy world. . . . The dashingly roguish cast, clever prose and well-placed moments of heartfelt emotion are sure to delight."—Publishers Weekly

"Tchaikovsky at the top of his form."—Booklist

You are here
Made Things (Paperback)