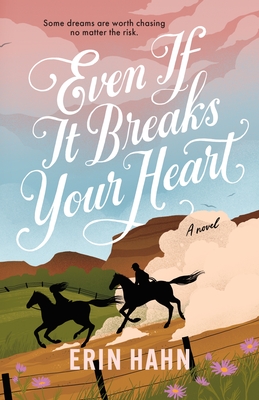 Description
---
A heart-buckling ride of a romance by beloved author Erin Hahn, Even If It Breaks Your Heart is about two teens finding out that sometimes, the hardest part of discovering what you want is getting the courage to pursue it.

The only thing keeping nineteen-year-old Case Michaels together after the death of his best friend, Walker, is a list Walker left behind of things he wants Case to accomplish in his absence. So far, though, Case hasn't even been able to continue riding bulls in the rodeo circuit, something he's done his entire life, balking at the thought of competing without Walker by his side. But the list? Case is determined to follow it to the letter– and he follows it all the way to Winnie Sutton.

Eighteen-year-old Winnie Sutton just wants to keep her family together. She graduated high school early to work long shifts at the Michaels family ranch so she can support her younger siblings and a father who's more than happy to let Winnie fill the responsible parent role. If she sometimes sneaks out to ride the horses herself and forget about life for a while– well, that's no one else's business– until the day she crashes headfirst into Case Michaels. Case sees her riding skills and immediately ropes her into competing for the ranch and becoming his friend.

Winnie and Case couldn't be more different, but Case can't help but be inspired by Winnie's badly-hidden passion for riding and competition. And there's something about Case that makes Winnie want to try grasping onto a dream for herself, whether that's a shot at a rodeo trophy, the annoyingly handsome rancher's son who won't leave her alone, or maybe both.
About the Author
---
ERIN HAHN is the author of the young adult novels You'd Be Mine, More Than Maybe, and Never Saw You Coming as well as the adult romance Built to Last. Romance is her vibe, grunge is her soundtrack and fall is her signature color. She fell for her flannel-clad college sweetheart the very first day of school and together, they have two hilarious kids who keep her humble. She lives outside Ann Arbor, Michigan, and has a cat named Gus who plays fetch and a dog named June who doesn't.
Praise For…
---
"This feels so genuine. Every scuffed boot. The scent of the barn. Grief. Friendship. Well-earned kisses. I've never been to a rodeo, but after reading this, I feel as though I have. Erin Hahn always writes from her heart, and she always writes true. A lovely, lovely book." - Jenn Bennett, author of Alex, Approximately

"I've been a fan of Erin Hahn's beautiful love stories for years, and Even if it Breaks Your Heart is no exception. Case and Winnie are fully realized, deeply layered characters, and readers won't be able to help but root for Case and Winnie as they try to find themselves and each other along the way." - Kristina Forest, critically acclaimed author of Zyla & Kai and I Wanna Be Where You Are

"Erin Hahn's latest contemporary romance is another triumph in what is fast becoming a veritable trophy case of titles. Even If It Breaks Your Heart brings us to the Texas panhandle, where the only thing more heart-pounding than rodeo is the chemistry between Winnie and Case. I read this book with a big, goofy grin on my face that just wouldn't quit, even when this sweet story of grief, resilience, and love of all kinds brought tears to my eyes. Hahn's ability to capture the complexity and nuance of human connection—whether among family, friends, or romantic partners—is simply unparalleled." - Rebecca Heyman, editor and book reviewer

"No other author can make me swoon over a pair of cowboy boots quite like Erin Hahn does. This book is Romance with a capital R, and Hahn is writing at the top of her game. With richly drawn characters, Even If It Breaks Your Heart is an honest and hopeful story about finding the courage to follow what makes you happy." - Brian D. Kennedy, author of A Little Bit Country

"If you're looking for a country romance that's honest, heartfelt, and romantic, Even If It Breaks Your Heart is the book for you. Sure to be your next Erin Hahn favorite. " – Rachael Lippincott, #1 New York Times bestselling author of Five Feet Apart

"An absolute delight - tender, witty, and heartfelt, with the kind of characters who feel so real that you'll wish you could keep checking in with them long after the last page." – Karen M. McManus, #1 New York Times bestselling author

"Erin Hahn has created a powerful exploration of grit, grief, and resilience through two beautifully drawn characters to root for, and a world that leaps off the page. A moving tribute to people who have been lost, and sparkling hope for those seeking the courage to find themselves again." – Laura Taylor Namey, New York Times bestselling author of A Cuban Girl's Guide To Tea and Tomorrow

"Well, folks, it's official: I'm buying a pair of cowboy boots and braiding my hair so I can daydream about being a horse girl! You can almost smell the sweetness of the stables in Erin Hahn's Even If It Breaks Your Heart. This heartfelt romance felt like riding in the rodeo circuit, a rush of raw emotions hitting you all at once. Not only is it full of Hahn's signature swoons, but also a deep-dive into the meaning of family and friendship. Barrel-racing Winnie is a fierce heroine, the ultimate big sister, and bull-riding Case is the troubled cowboy hero we all want to see triumph. Individually, they tugged at my heartstrings and broke me. Together, they healed me. This is Erin Hahn at her very best." – K.L. Walther, USA Today bestselling author of The Summer of Broken Rules

"Reading Erin Hahn's Even if It Breaks Your Heart feels like listening to the best kind of country song, full of horses, heartache, and the sweetness of first love." – Kerry Winfrey, author of Waiting for Tom Hanks and Faking Christmas

"Even If It Breaks Your Heart is a heartfelt coming-of-age story that features heartbreaking grief, letting go of the past, chasing your dreams, and finding yourself. I didn't want this book to end – highly recommended!" – Jennifer Rummel, Children's and Young Adult Librarian, Cragin Memorial Library
You are here
Even If It Breaks Your Heart: A Novel (Hardcover)