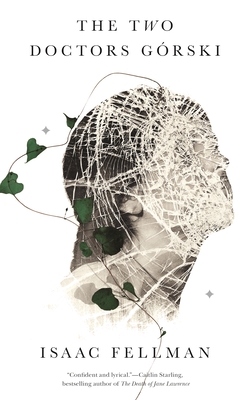 $16.99

Usually Ships in 1-5 Days
Description
---
"Dark academia at its most oppressive and intense."—The New York Times

A Most Anticipated Pick for Buzzfeed

The Two Doctors Górski is a dazzling contemporary fantasy and an exploration of reclaiming personal power in the aftermath of abuse by Lambda Award-winning author Isaac Fellman.

Annae, a brilliant graduate student in psychiatric magic and survivor of academic abuse, can't stop reading people's minds. This is how she protects herself, by using her abilities to know exactly how her colleagues view her. This is how she escapes the torturous experience of her own existence.

When Annae moves to England to rebuild her life and finish her studies under the seminal magician Marec Górski—infamous for bringing to life a homunculus made from his unwanted better self—she sees, inside his head, a man who is both a destructive force to everyone around him, and her mirror image. For Annae to survive, she'll need to break free of a lifetime of conditioning to embody her own self and forge her own path.
About the Author
---
Isaac Fellman is the author of Dead Collections as well as The Breath of the Sun (published under his previous name), which won the 2018 Lambda Literary Award for queer science fiction, fantasy, and horror. He is an archivist at the GLBT Historical Society.
Praise For…
---
Praise for The Two Doctors Górski

"This is dark academia at its most oppressive and intense. . .The cruelty and indifference of the academy; the far-reaching damage caused by ego-driven obsession; the refusal of senior faculty members to consider students as anything but extensions of themselves: All are marvelously staged and meticulously examined."—The New York Times

"Confident and lyrical, The Two Doctors Górski is an academic gut-punch. A superb blend of the devastatingly familiar and exquisitely fantastical."—Caitlin Starling, best-selling author of The Death of Jane Lawrence

"Wonderful voice, memorable characters and very interesting metaphysics. Couldn't put it down."—Jo Walton

"Fellman flips the Frankenstein story of scientist and creation on its head . . . The relationship between the two [doctors] is thorny and fascinating, leading into an exploration of queer monstrosity that is more overt in Fellman's rendition than in Mary Shelley's original. . . . This brilliant, haunting tale packs a punch."—Publishers Weekly, starred review

"Fellman continues to showcase a skill for capturing psychological depths with flashing concision. . . . This is a dark novella, and feels like a new direction in Fellman's already impressive use of the speculative to think through questions of identity."—Locus

"An introspective masterpiece of low fantasy. . .[and] literary fantasy at its finest, a deeply contemplative and multilayered novel that explores the real psychological struggles of identity, imposter syndrome, and the trials of academic life."—Grimdark Magazine


Praise for Dead Collections

"[A] thoughtful, acerbic, bracingly hopeful book."—The New York Times

"Author Fellman has sensitively constructed the complex internal landscape of a multilayered protagonist whose self-consciousness, quirks, and anxieties are palpable....Unique and emotionally deep."—Kirkus Reviews

"Utterly refreshing and thrilling. Dead Collections is a marvel that left me feeling as if miracles might lurk behind every doorway and inside every old box of papers."—Charlie Jane Anders
You are here
The Two Doctors Górski (Paperback)