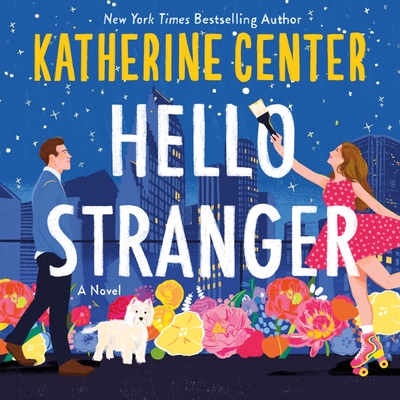 $39.99

Usually Ships in 1-5 Days
July 2023 Indie Next List
---
"Katherine Center has once again blown my mind with Hello Stranger. It's uplifting, yet serious. It's got heart, yet still manages to be funny. I have no doubt it'll be one of my top recommended reads this summer!"
— Preet Singh, Eagle Eye Book Shop, Decatur, GA
Description
---
The glorious new novel from the beloved author whose bright, hopelessly romantic New York Times bestsellers have been called "My perfect 10 of a book" (Emily Henry) and cheered for their "speedy pacing and sexual tension for miles" (People).

"Patti Murin offers a fun, vivacious performance of this lively romance...with steady pacing and a believable narration, this romance will charm listeners." —AudioFile

"Patti Murin narrates the struggling yet still optimistic Sadie while respectfully acknowledging the hurt and confusion that her condition has caused. Murin's lively performance and varied character voices make for an engaging and fun listen."- Library Journal

This program includes an author's note and supplementary materials read by the author.

Love isn't blind, it's just a little blurry.

Sadie Montgomery never saw what was coming . . . Literally! One minute she's celebrating the biggest achievement of her life—placing as a finalist in the North American Portrait Society competition—the next she's lying in a hospital bed diagnosed with a "probably temporary" condition known as face blindness. She can see, but every face she looks at is now a jumbled puzzle of disconnected features. Imagine trying to read a book upside down and in another language. This is Sadie's new reality.

But, as she struggles to cope, hang on to her artistic dream, work through major family issues, and take care of her beloved dog, Peanut, she falls in love—not with one man but two. The timing couldn't be worse.

Making judgment calls on anything right now is a nightmare. If only her life were a little more in focus, Sadie might be able to have it all.

A Macmillan Audio production from St. Martin's Press.
About the Author
---
BookPage calls Katherine Center "the reigning queen of comfort reads." She's the New York Times bestselling author of over half a dozen books, including How to Walk Away, Things You Save in a Fire, and What You Wish For. Katherine writes laugh-and-cry books about how life knocks us down—and how we get back up. She's been compared to both Jane Austen and Nora Ephron, and the Dallas Morning News calls her stories, "satisfying in the most soul-nourishing way." Her books have made countless Best-Of lists, including RealSimple's Best Books of 2020, Amazon's Top 100 Books of 2019, Goodreads' Best Books of the Year, and many more. Bestselling author Emily Henry calls her summer 2022 book, The Bodyguard, "a shot of pure joy." The movie adaptation of Katherine's novel The Lost Husband (starring Josh Duhamel) hit #1 on Netflix, and her novel Happiness for Beginners is in production now as a Netflix original starring Ellie Kemper. Katherine lives in her hometown of Houston, Texas, with her husband, two kids, and their fluffy-but-fierce dog.
Praise For…
---
"This charming, heartfelt romantic comedy has a well-told, unique storyline, and Sadie's prosopagnosia feels deftly explained, explored, and treated with respect. There's chemistry between the protagonists with a slow-burn relationship, but there's also a focus on Sadie's mental and emotional growth, as well as her artistic frustrations and problem-solving methods. Readers who enjoy Jenny Colgan and Susan Mallery will love this engaging, well-written romance from Center (The Bodyguard)." --Library Journal

"With a thoroughly modern millennial heroine at the helm, this emotional contemporary from Center (The Bodyguard) tugs on the heartstrings and grabs attention. Portrait artist Sadie Montgomery, 28, may finally get her big break when she's selected to enter a prestigious competition. Unfortunately, the contest coincides with a minor medical procedure that turns into emergency brain surgery, and the recovery process leaves her unable to make sense of human faces. Though warned by her neuropsychiatrist that her (possibly) temporary face blindness may make her interpret her other senses incorrectly, Sadie works to get her painting back on track with the support of her best friend, Sue, and her neighbor, Joe, who she can only recognize from the bowling jacket he wears all the time. She also tries dating her hunky veterinarian, Dr. Addison, hoping a relationship will help her settle back into normal. But is she seeing the whole picture? Center takes Sadie's life seriously and her struggles with adulting resonate even before her face blindness sets in. Meanwhile, a dash of humor and an endearing love story make the pages fly. Readers will be hooked." -- Publishers Weekly (Starred Review)

"Fortunately, the narrator believes in Sadie's potential for positivity and builds up the character from chapter one. Making it a part of the artist's somewhat infantile charm, Murin does not distance herself from Sadie's resentments and brings her quirky, self-pitying humor to high shine."- Booklist
You are here
Hello Stranger: A Novel (CD-Audio)