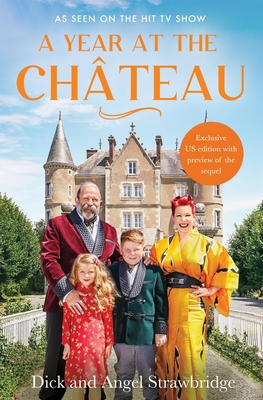 $28.00

Usually Ships in 1-5 Days
Description
---
Like many couples, Dick and Angel had long dreamed of living in France, but where others might settle for a modest bolthole in the French countryside, the Strawbridges fell in love with a 19th-century fairytale château, complete with 45 rooms, seven outbuildings, 12 acres of land and its own moat.
Throwing caution to the wind, Dick and Angel swapped their two-bedroom flat in East London for an abandoned and derelict castle in the heart of the Loire valley and embarked on the adventure of a lifetime with their two young children Arthur and Dorothy.
Sharing their full journey for the first time, A Year at the Château follows Dick and Angel from when they first moved to France in the depths of winter and found bedrooms infested with flies, turrets inhabited by bats, the wind rattling through cracked windows, and just one working toilet, which flushed into the moat, through to the monumental efforts that went into readying the château for their unforgettable wedding and their incredibly special first Christmas.
Along the way we'll read glorious descriptions of rural life in France, with charming characters, delicious food and wonderful seasonal produce, together with the extraordinary list of renovations and restorations Dick and Angel completed, many of which were never shown on TV.
As warm and entertaining as their much-loved show, A Year at the Château is a truly irresistible story of adventure and heart, epic ambitions and a huge amount of hard graft.
About the Author
---
Born in Burma, but raised and educated in Northern Ireland, Dick Strawbridge retired as a Lieutenant Colonel in 2001 before becoming a full-time television presenter and author (with arguably the best mustache in showbusiness). He is a man of many interests, some of which are reflected in his successful and varied television career.
Angel Strawbridge is a 1940s vintage-clad redhead from East London. She is the founder of The Vintage Patisserie, a glamorous hospitality company, and author of the bestselling Vintage Tea Party series. In 2011 she opened her first Vintage Patisserie in Hackney, East London.
Dick and Angel met and fell in love in 2010. They have two children together: Arthur, born in 2013, and Dorothy, born in 2014. In 2015 they bought a derelict château in the Loire valley and became the subjects of the hugely popular Channel 4 hit Escape to the Château. After extensive renovations on a shoestring budget, the couple married at their family home in November 2015.
You are here
A Year at the Chateau (Hardcover)