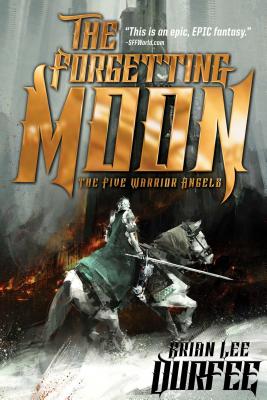 $19.99

Usually Ships in 1-5 Days
Description
---
A massive army on the brink of conquest looms large in a world where prophecies are lies, magic is believed in but never seen, and hope is where you least expect to find it.

Welcome to the Five Isles, where war has come in the name of the invading army of Sør Sevier, a merciless host driven by the prophetic fervor of the Angel Prince, Aeros, toward the last unconquered kingdom of Gul Kana. Yet Gault, one of the elite Knights Archaic of Sør Sevier, is growing disillusioned by the crusade he is at the vanguard of just as it embarks on his Lord Aeros' greatest triumph.

While the eldest son of the fallen king of Gul Kana now reigns in ever increasing paranoid isolationism, his two sisters seek their own paths. Jondralyn, the older sister, renowned for her beauty, only desires to prove her worth as a warrior, while Tala, the younger sister, has uncovered a secret that may not only destroy her family but the entire kingdom. Then there's Hawkwood, the assassin sent to kill Jondralyn who has instead fallen in love with her and trains her in his deadly art. All are led further into dangerous conspiracies within the court.

And hidden at the edge of Gul Kana is Nail, the orphan taken by the enigmatic Shawcroft to the remote whaling village of Gallows Haven, a young man who may hold the link to the salvation of the entire Five Isles.

You may think you know this story, but everyone is not who they seem, nor do they fit the roles you expect. Durfee has created an epic fantasy full of hope in a world based on lies.
About the Author
---
Brian Lee Durfee is an artist and writer raised in Fairbanks, Alaska, and Monroe, Utah. He has done illustrations for Wizards of the Coast, Middle-Earth Enterprises, Dungeons & Dragons, Humane Society Wildlife Land Trust (Denali National Park), and many more. His art has been featured in SPECTRUM 3: Best in Contemporary Fantastic Art and L. Ron Hubbard Presents Writers of the Future Vol IX. He won the Arts for the Parks Grand Canyon Award and has a painting in the permanent collection of the Grand Canyon Visitors Center-Kolb Studio. Brian has written one epic horror novel along with the fantasy series, Five Warrior Angels. He lives in Salt Lake City.
Praise For…
---
"This is high fantasy in the vein of Stephen R. Donaldson or David Eddings, with generous helpings from George R. R. Martin. Durfee's world building is exceptional: detailed and immersive, with a deep history and believable cultures. The plot is paced and driven, compellingly structured, with a conflict large enough to fuel forthcoming titles in the series."
— Booklist

"Durfee's artist's eye and fertile imagination populate this complex tale."
— Publishers Weekly

"This is an epic, EPIC fantasy."
— Rob Bedford

"The Forgetting Moon provides plenty of well-crafted spectacle, thrills, suspense, blood, thunder and general sense of wonder."
— -- Locus Magazine

A Bookworm Blues Annual Epic Best Books of 2016 List You Can't Miss! Selection

"Durfee has a knack for crafting an incredibly intricate, surprising story. This book set out to do a few very specific things, and it did every last one of those things with brutal efficiency."
— Bookworm Blues.com
You are here
The Forgetting Moon (The Five Warrior Angels #1) (Paperback)