You are here
Back to top
The Power of Good News : Feeding Your Mind with What's Good for Your Heart (Hardcover)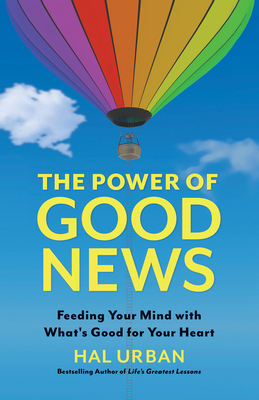 $15.95

Usually Ships in 1-5 Days
Description
---
The media's bias toward stories of conflict, violence, and division is bad for your health. Hal Urban shows how to find the positive and uplifting all around us.

What we eat greatly impacts our physical health. Hal Urban says that we can nourish our minds just like we nourish our bodies by choosing what information we consume. Urban explains why, due to neuroscience as much as economics, the media—left, right, and center—focuses mostly on negative stories. And he describes the psychological toll this takes on our mental health. But he's not suggesting we ignore these stories, just that we vary our diets.

We can find countless signs of progress and acts of kindness all around the world if we know where to look. And there are positive aspects in our own lives—family, friends, beauty, generosity, and progress—that we take for granted. Offering techniques he road tested as a teacher for thirty-six years, Urban helps readers become a conscious consumer of information, balancing sources like food groups.

If, as the late Zig Ziglar put it, "you are what you are . . . because of what has gone into your mind," then it's in our best interest to choose positive, healthy, and uplifting input whenever possible. Urban shows how to do this with open eyes and an open heart.

About the Author
---
Hal Urban was an award-winning teacher at San Carlos and Woodside High Schools and an adjunct professor at his alma mater, the University of San Francisco, where he received a lifetime achievement award. Since 1992, Dr. Urban has been passionately dedicated to the Character Education movement—he also received a lifetime achievement award from Character.org. He speaks nationally and internationally. The heart of his message is good character and good news lead to a good life.

Praise For…
---
"Hal Urban is one of the greatest teachers of our generation. His new book is for anyone who wants to learn how to nurture goodness and positivity."
—Arthur Schwartz, EdD, President, Character.org

"The Power of Good News is the beacon of hope we need today! This little book is full of wonderful stories of human resilience, solutions for what I call stinkin' thinkin', and easy ways for you to boost not only your own mood but the mood of every person you meet. Take Hal's advice—it will renew your spirits and make you feel better about life."
—Ken Blanchard, coauthor of The New One Minute Manager and Leading at a Higher Level

"Hal Urban explores how the media could be used for good, which is both timely and provocative. He reminds us that the good in the world needs more exposure and needs to be shared with others."
—Michelle Gielan, author of the international bestseller Broadcasting Happiness

"The fact that this book is out is really good news. Blending storytelling and research, humor and deep analysis, Hal Urban provides us an accessible and valuable treasure."
—Tal Ben-Shahar, PhD, cofounder of the Happiness Studies Academy

"Hal Urban and I are on the same page. I like saying that 'real wealth comes from how you think and how you see the world.' Life experiences will inevitably deliver bad news, but don't let the negative dictate the narrative of your life. Read Hal's book and train your mind to find your good news."
—John Hope Bryant, founder, Chairman, and CEO, Operation Hope