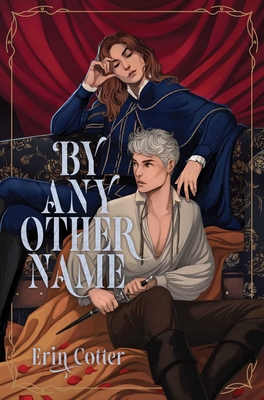 By Any Other Name
Publication Date:
October 10th, 2023
Publisher:
Simon & Schuster Books for Young Readers
Usually Ships in 1 to 5 Days
Description
A down-on-his-luck actor and an English lord reluctantly team up to solve the murder of Christopher Marlowe in this Shakespearean-era young adult romp perfect for fans of F.T. Lukens and Mackenzi Lee.
London, 1593. Sixteen-year-old Will Hughes is busy working on Shakespeare's stage, stuffing his corsets with straw and pretending to be someone else. Offstage, he's playing a part, too. The son of traitors, Will is desperate to keep his identity secret—or risk being killed in the bloody queen's imperial schemes. All he wants is to lay low until he earns enough coin to return to his family.
But when his mentor, the famous playwright Christopher Marlowe, is murdered under mysterious circumstances, Will's plans are hopelessly dashed. What's worse, Marlowe was a spy for the queen, tasked with stalking a killer rumored to be part of an elusive order of assassins, and his secrets and untimely death have put Will under a harsh spotlight. And so, when Will unwittingly foils an attempt on the queen's life, she names him her next spymaster.
Now, to avoid uncomfortable questions, prison, or an even more terrible fate, Will reluctantly starts his new career, which—yes—will secure him the resources to help his family…but at what cost? Adding insult to injury is the young Lord James Bloomsbury, Will's new comrade in arms, whose entitled demeanor and unfairly handsome looks get under Will's skin immediately.
Together, the two hunt the cunning assassin, defend the queen's life, and pray to keep their own...all while an unexpected connection blossoms between them.
Praise for By Any Other Name
"By Any Other Name is a high-stakes, high-drama mystery set in a vividly rendered Shakespearean London. Erin Cotter takes readers on a journey from the slums to the theaters to the palaces of Elizabethan England, led by a plucky, determined hero I would have followed anywhere. I devoured this romantic, delightful romp!"
— Mackenzie Lee, New York Times bestselling author of A Gentleman's Guide to Vice and Virtue
"Zounds! By Any Other Name by Erin Cotter is a delightful romance full of hope and humor that flourishes against the backdrop of Elizabethan England. Complete with players, pirates, and plots, Cotter weaves an adventure that draws the reader in from the first page. Will Hughes, the anti-hero, finds more than he bargained for when he searches for the murderer of his mentor, playwright Christopher Marlowe and takes on his most dangerous role—spymaster for the Queen. In all his pretending, identity comes into question. How do you know who you are when you're pretending to be someone you're not? Thoughtful and deliberate, love and family in various forms and their ties to self-worth are at the center of this coming-of-age story filled with witty banter and forbidden love."
— Krystal Marquis, New York Times bestselling authors of The Davenports
"Elizabethan London-- complete with Shakespeare's plays, Kit Marlowe's murder, dazzling court masques, and deadly intrigue-- comes to life in this thrilling, high stakes, beautifully written story. Part galloping, bloody mystery and part tender, queer love story, By Any Other Name is all heart and will have readers up late into the night cheering for the characters and the many twists of their fates."
 
— Jamie Pacton, author of The Vermillion Emporium, Lucky Girl, and The Life and (Medieval) Times of Kit Sweetly
"Zounds, this is terrific! Come for the Shakespeare, stay for the heart-melting romance. It's exactly the thing I love to read for pleasure, with a plot fueled by intrigue, well-drawn characters, and a historical setting that absolutely feels alive. A delight from start to finish—highly recommended."
— Jenn Bennett, critically acclaimed author of Alex, Approximately
"A well-balanced, well-researched dramedy, Cotter's quippy, heart-wrenching debut is ideal for fans of Mackenzi Lee and F.T. Lukens.
To read or not to read? There's really no question: pick this one up."
— Kirkus Reviews 
"Sharp-tongued Will is riveting as the earnestly melodramatic and ill-fated hero whose tumultuous and forbidden romance with James pulses beneath every scene. Cotter weaves deep research on historic events and figures such as William Shakespeare and Irish pirate queen Gráinne Ní Mháille into this leisurely and delightfully wrought tale of love and deceit."
— Publishers Weekly