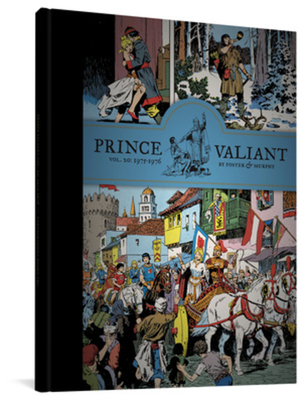 $34.99
Email or call for price
Description
---
Prince Valiant battles pirates and Aleta defeats a wizard in this collection of King-Arthur inspired Sunday newspaper comics.
Creator Hal Foster's art returns for the Sunday newspaper comic strip series' 2000th strip, recalling the high points of the Prince Valiant legend. Then, Aleta's younger sister Helene is gambled away by her husband to a Corsair mercenary, drawing Prince Valiant and his Singing Sword into a deadly duel. Includes a gallery of Hal Foster's gorgeous art for the 1930 U.S. Naval Academy yearbook. Plus, an interview with
Mad
artist Angelo Torres, who assisted
Prince Valiant
artist John Cullen Murphy on the
Big Ben Bolt
strip.
About the Author
---
John Cullen Murphy, a six-time recipient of the National Cartoonists Society's "Best Story Strip" for his work on Prince Valiant, continues to draw the strip from his home in Connecticut, while his son, Cullen Murphy, writes the strip in between serving as the Managing Editor for The Atlantic.

Hal Foster (1892-1982) created Prince Valiant in 1937. Though remaining involved with the strip until his death in 1982, Foster handed the bulk of the scripting and art chores over to his longtime assistant, John Cullen Murphy, in 1971.
You are here
Prince Valiant Vol. 20: 1975-1976 (Hardcover)