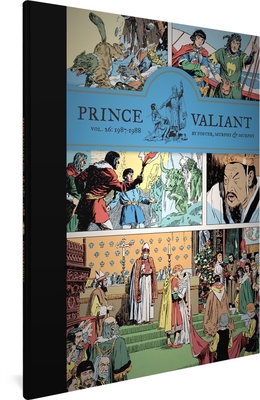 $39.99

Usually Ships in 1-5 Days
Description
---
Arn takes his wedding vows in a milestone Prince Valiant strip.
The most visually opulent comic strip in the history of the medium celebrates its 50th anniversary with the marriage of Prince Valiant's son. Val goes in search of a northern spice route, which leads him into adventures among the Balts, the Greeks, the Lapps, and the Chinese. A Trojan Horse deception in reverse nearly wipes out Val's expedition, and a dreamlike encounter north of Cathay involves Yeti and other strange creatures. Back in Britain, Arn's bride strikes a blow against chauvinism and liberates the women of the village of Orr to exercise their true potential.
About the Author
---
Hal Foster (1892-1982) created Prince Valiant in 1937. Though remaining involved with the strip until his death in 1982, Foster handed the bulk of the scripting and art chores over to his longtime assistant, John Cullen Murphy, in 1971.

John Cullen Murphy, a six-time recipient of the National Cartoonists Society's "Best Story Strip" for his work on Prince Valiant, continues to draw the strip from his home in Connecticut, while his son, Cullen Murphy, writes the strip in between serving as the Managing Editor for The Atlantic.

Cullen Murphy served as managing editor for The Atlantic from 1985–2006 and is currently an editor at large for Vanity Fair. Beginning in the 1970s, Murphy collaborated with his father, John Cullen Murphy, on the Prince Valiant comic strip.
You are here
Prince Valiant Vol. 26: 1987-1988 (Hardcover)