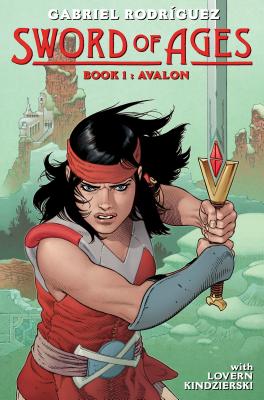 Description
---
Alien worlds, a sacred sword, brave knights, horrific demons, and a mythic origin story like no other, courtesy of the co-creator of Locke & Key!

Presenting an epic adventure from master illustrator Gabriel Rodriguez! Join a young warrior as she becomes the first wielder of the most famous and sacred weapon of all time! Follow as this young champion fights for her world's survival, inspiring a legion of heroes to join her struggle against a merciless alien force. The line between science and magic might get fuzzy, but the line between heroes and villains will be drawn in blood!
About the Author
---
Born in Santiago, Chile, Gabriel Rodriguez began working as an illustrator in the late 90s and in 2002 started drawing books for IDW Publishing, including CSI, George Romero's Land of the Dead, Clive Barker's The Great and Secret Show, and Beowulf, amongst others.

In 2007, he co-created with Joe Hill the award-winning series Locke & Key. He continued developing other creator-owned projects: the Eisner-winning Little Nemo: Return to Slumberland, with Eric Shanower, and the gritty sci-fi adventure Onyx, with Chris Ryall. In 2016, he partnered with Hill once again for a comic adaptation of Hill's teleplays for a new version of Tales from the Darkside, as well as for a new Locke & Key story, "Small World."

His current project is Sword of Ages, a fantasy adventure series he is creating, writing and drawing.

He lives in Santiago with his wife, Catalina, and their kids, Jose Manuel, Matias, and Gabriel.
Praise For…
---
"Gabriel Rodrguez creates a fantastic sci-fi retelling of the Arthurian Legend. With Avalon at the helm, SWORD OF AGES depicts a gender-bending new version of the medieval myth." -Comicsverse

"Rodriguez has clearly put a huge amount of thought into his new universe, drawing from all sorts of influences and creating a dense, varied tapestry to explore. " -IGN

"If you told us this was a lost Mœbius comic, we'd believe you." –Nerdist

"The story is sprawling yet coherent. The factions are many but distinct and interesting. The war is intense and compelling, and the art is solid and clear. This one earns another recommendation." –Bleeding Cool
You are here
Sword of Ages, Book 1: Avalon (Hardcover)