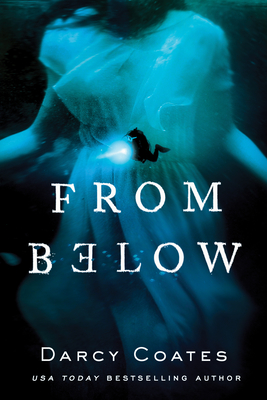 $15.99

Usually Ships in 1-5 Days
Description
---
"Creepy, claustrophobic, and thoroughly frightening." —Booklist
Darcy Coates, author of The Haunting of Ashburn House, pulls us under for mesmerizing ghost story about a documentary dive team that discovers a terrifying secret.
Hundreds of feet beneath the ocean's surface, a graveyard waits...
Years ago, the SS Arcadia vanished without a trace during a routine voyage. Though a strange, garbled emergency message was broadcast, neither the ship nor any of its crew could be found. Sixty years later, its wreck has finally been discovered more than three hundred miles from its intended course…a silent graveyard deep beneath the ocean's surface, eagerly waiting for the first sign of life.
Cove and her dive team have been granted permission to explore the Arcadia's rusting hull. Their purpose is straightforward: examine the wreck, film everything, and, if possible, uncover how and why the supposedly unsinkable ship vanished.
But the Arcadia has not yet had its fill of death, and something dark and hungry watches from below. With limited oxygen and the ship slowly closing in around them, Cove and her team will have to fight their way free of the unspeakable horror now desperate to claim them.
Because once they're trapped beneath the ocean's waves, there's no going back.
Also By Darcy Coates:
The Haunting of Leigh Harker
The Haunting of Ashburn House
The Haunting of Blackwood House
Craven Manor
The House Next Door
Voices in the Snow
About the Author
---
Darcy Coates is the USA Today bestselling author of Hunted, The Haunting of Ashburn House, Craven Manor, and more than a dozen horror and suspense titles. She lives on the Central Coast of Australia with her family, cats, and a garden full of herbs and vegetables. Darcy loves forests, especially old-growth forests where the trees dwarf anyone who steps between them. Wherever she lives, she tries to have a mountain range close by.
Praise For…
---
"Coates demonstrates her skill at conjuring atmospheric horror and maintaining taut suspense in the dual timelines of this standalone outing...Coates's subtle plotting makes this a solid pick for horror fans." — Publishers Weekly

"The latest horror story from the popular and prolific Coates is creepy, claustrophobic, and thoroughly frightening. Perfect for fans of undersea terror." — Booklist

"Something on the ship is waking up, and it doesn't want them to leave. With a timeline that jumps between the last few days before the Arcadia sank and the present-day, Coates's latest slowly ratchets up the tension and will leave readers gasping for air. Highly recommended for readers who enjoyed Caitlin Starling's The Luminous Dead or other survival horror." — Library Journal
You are here
From Below (Paperback)