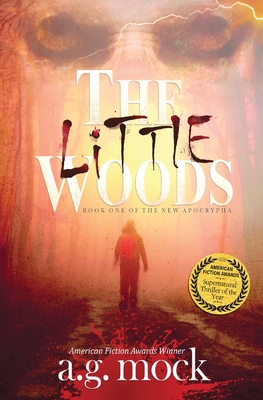 $16.45

Usually Ships in 1-5 Days
Description
---
By the time Ian sees the rope around his friend's neck, it's too late...
It's a harmless game in the woods. But then the Darkness comes.
Unnatural and without explanation, it's as terrifying to some as it is intoxicating to others. Scared and alone, Ian hides as his friends turn on one of their own: A cackle of hyenas separating the weakest from the clan. First comes the boy's pleading. Then the screams...
It's a nightmare that haunts Ian Cockerton all his life. Until a childhood friend comes to visit.
A dead childhood friend.
Because the woods can no longer hold the Darkness. And the nightmare that's chased Ian his entire life has just caught up to him...
Set in the 1970s & 1990s and inspired by real events, this award-winning supernatural horror novel is perfect for fans of retro coming-of-age thrillers like Stand By Me and Black Phone, or gothic horror stories like The Conjuring.
Scroll up to get your copy today
The Little Woods is the standalone first book in the Gothic Horror series. The terror continues in Disciple, an edge-of-your-seat occult horror.
About the Author
---
A.G. MOCK is an award-winning author of supernatural suspense who loves to bring you all things that go bump in the night!

Originally from western Pennsylvania, his publishing career began in Britain, and many feel it is this unique experience which sets his writing style apart.

He is a 2x American Fiction Awards winner, a Guest Author at several Horror Cons around the country, and his books have achieved bestseller status in the US, UK & CAN.

Mr. Mock currently lives in rural South Carolina with his incredibly patient wife, two peculiarly challenging but adorable rescue dogs, and a cheeky ghost who often makes itself known by with an odd, smoky scent.

His wife and dogs he treasures wildly; the ghost he can take or leave.

DISCIPLE and SHADOW WATCHERS are the second and third books in his award-winning trilogy and can be ordered wherever books are sold.
Praise For…
---
With its sinister summer rituals and haunting childhood mythologies, The Little Woods nestles itself nicely alongside Stephen King's IT, Dan Simmons' Summer of Night, and Boy's Life by Robert R. McCammon.
—Clay McLeod Chapman Author of Whisper Down the Lane and Ghost Eaters


One hell of a horror thrill ride! If you like being scared witless, The Little Woods is a page-turner that'll make it hard to ever look at the woods the same way again!
—Shelley Nolden Award-Winning Author of The Vines


A genuinely terrifying story from a talented author...the skill of A.G. Mock rivals the top tier bestsellers out there!
—C.M. Allen Author of Blood and Biscuits: Book One of the Supernatural Support Group

You are here
The Little Woods (Paperback)