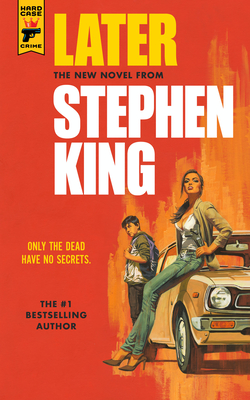 Description
---
"Part detective tale, part thriller…touching and genuine." —The New York Times

#1 bestselling author Stephen King returns with a thrilling novel about the secrets we keep buried and the cost of unearthing them.

#1 NEW YORK TIMES BESTSELLER
THE SUNDAY TIMES BESTSELLER

SOMETIMES GROWING UP

MEANS FACING YOUR DEMONS

The son of a struggling single mother, Jamie Conklin just wants an ordinary childhood. But Jamie is no ordinary child. Born with an unnatural ability his mom urges him to keep secret, Jamie can see what no one else can see and learn what no one else can learn. But the cost of using this ability is higher than Jamie can imagine – as he discovers when an NYPD detective draws him into the pursuit of a killer who has threatened to strike from beyond the grave.

LATER is Stephen King at his finest, a terrifying and touching story of innocence lost and the trials that test our sense of right and wrong. With echoes of King's classic novel It, LATER is a powerful, haunting, unforgettable exploration of what it takes to stand up to evil in all the faces it wears.
About the Author
---
Stephen King is the author of more than fifty books, all of them worldwide best-sellers. King was the recipient of America's prestigious 2014 National Medal of Arts and the 2003 National Book Foundation Medal for distinguished contribution to American Letters. In 2007 he also won the Grand Master Award from the Mystery Writers of America. He lives with his wife Tabitha King in Maine.
Praise For…
---
#1 on The New York Times bestselling Paperback Trade Fiction list 

#1 on The Washington Post Paperback Bestsellers list

#1 on the Toronto Star's list of Bestselling Original Fiction in Canada

"Part detective tale, part thriller...touching and genuine." --The New York Times

"There's classic King here for fans... a thrilling whodunit." - Associated Press

"King's writing in LATER is as clean, direct and evocative as it's ever been…the crime-driven plot is propulsive [and] some of the lines just take your breath away…you're in the hands of a master storyteller." - Washington Post

"Delivers his signature twists and turns....An eerie, enthralling tale." -Woman's World Magazine (Best Books to Read )

"Crave chills and thrills but don't have time for a King epic? This will do the job before bedtime. Not that you'll sleep."  -Kirkus

"Gory and unnerving, this twisty chiller has sufficient sins and revelations to keep readers pursuing the action to its breathless conclusion. King fans are in for a treat." -Publishers Weekly 

"An entertaining and breezy read, with the stellar storytelling that has justly made King a literary legend." - AARP Magazine

"Later is a horror story, but it's also a proper thriller, told by a master of his craft."—The Guardian
 
"King's tics and tricks are all in bloom: folksy dialogue, cockeyed worldview, rising tension, pure evil, etc. " - Philadelphia Inquirer

"A Joy to read...some of King's best writing...If you haven't read a King novel for a while due to timeconstraints, or you would like an introduction to the man at or near the top of his game, pick LATER as your delightful literary poison." - BookReporter

"LATER is top-notch Stephen King and one of the most memorable works in his long and storied writing career. The tale calls to mind many of his prior works and is the only other story next to the classic IT to refer to 'deadlights' --- a word that should cause icy chills to run down the spine of any faithful King reader." - BookReporter

"A satisfying tale about facing demons—both those we can see and those that lurk in the darkness." - Foreword Reviews 

"Later is yet another example of Stephen King's special ability to tell a story that's both simple and compelling. Entertaining and thought-provoking, it's a must-add to your 2021 reading list." - New York Journal of Books

"A powerful testament to [King's] storytelling prowess" - Bookbub

"Sharply developed characters, steady incorporation of supernatural elements, and building suspense, make for [a] great read" - Borg.com

"A horror story [that] is really more of a genre-bender, combining the horror with a sensitive coming-of-age tale and an old-school crime thriller. [A] most ingratiating mix." - Booklist Starred Review

"There's classic King here for fans... A thrilling whodunit." - ABC News

"Later is a horror story, but it's also a proper thriller, told by a master of his craft." - The Guardian

"King at his absolute best." - Daily Mail

"Classic King with a twist." - Barnes & Noble feature 

"Toggle[s] between thrills and feels, all the while slowly dialling up the terror as only [King] can." - Amazon Book Review Best Mysteries of March

"King delivers both a terrifying and touching story." - The Hollywood Reporter 

"Thrills by the dozen." - International Express Books to Read in 2021

"An instapurchase." - HorrorDNA

"A standalone King that combines his mastery of multiple genres." - The Reel Bits 

"A fresh new story for modern audiences." - ScreenRant

"Convey[s] the same loss-of-innocence theme at which King excelled in his classic novella, The Body... If you're a King fan, you'll not regret reading it." - Cinema Sentries 

"[King's] clear love of noir fiction joins forces with his horror bona fides and his still-strong ability to capture the fundamental truths about being a child, resulting in a lean and propulsive read." - The Maine Edge

"The truth of the matter is, I enjoyed LATER more than any other Stephen King in quite a while because it's short and to the point. It's a fast read, easily knocked out in a few hours, and there are some truly creepy and horrific moments that leave the reader thinking about certain scenes long after the book is done." - Bookgasm

"King veterans absolutely must add this to the collection." - Movie Nooz

"Absolutely riveting read....and memorably terrifying." -Cemetery Dance

"A terrific tale of secrets held by both the living and the dead." - Floriday Times-Union

"King once again demonstrates his ease at depicting younger characters and getting credibly inside their heads...Classic Stephen King" - SciFi Bulletin


"Once you pick up this book, putting it down will be near impossible. The action and dialogue interspersed with spine-chilling terror are engaging from beginning to end. It is a superb addition to the seemingly endless bibliography of this great storyteller."  
- San Francisco Book Review (5 stars)

"King's freakish storytelling powers are on full display here, with the strictures of the pulp novel keeping the action moving from chapter to chapter." - Toronto Star 

"Gripping...easy to stay glued to...a fun read" - Locus
You are here
Later (Mass Market)