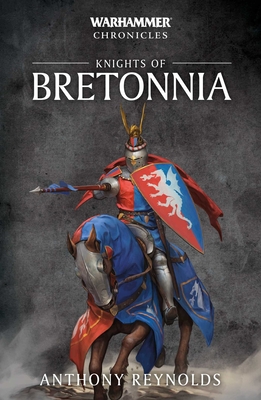 $18.00
Email or call for price
Description
---
Exciting release from the Warhammer Chronicles imprint.

Bretonnia is a land shrouded in myth and magic, under siege from the strange creatures of its shadowy forests and those fallen to the lure of the Dark Gods. Against these fearsome foes stand the Knights of Bretonnia, calling upon their faith in the Lady and their guile with the sword to repel their legions of enemies.



When young noble Calard starts upon the path to knighthood, he soon discovers the darkness hidden within his homeland and the price that must be paid by those seeking the holiest of honours – the title of Grail Knight. Accompanied by his faithful manservant Chlod, he must face vampires, wyverns, Chaos warriors and goblins, but each battle brings him one step closer to becoming the legend he seeks.



Knights of Bretonnia collects the novels Knight Errant and Knight of the Realm, plus the novellas Questing Knight and Grail Knight, completing the saga of Calard from his knightly training to his most epic of victories.


About the Author
---
Anthony Reynolds is the author of the Horus Heresy novella The Purge, audio drama Khârn: The Eightfold Path and short stories 'Scions of the Storm' and 'Dark Heart'. In the Warhammer 40,000 universe, he has written the Space Marine Battles novel Khârn: Eater of Worlds, alongside the audio drama Chosen of Khorne, also featuring Khârn. He has also penned the Word Bearers trilogy and many short stories.
You are here
Knights of Bretonnia (Warhammer Chronicles) (Paperback)