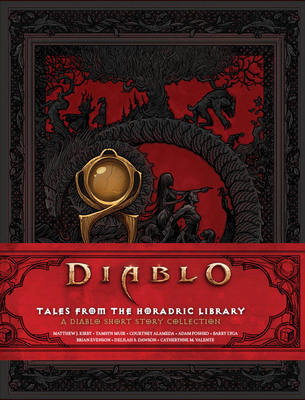 $29.95

Usually Ships in 1-5 Days
Description
---
Horror's favorite
authors throw open the doors to the Horadric Library, inviting Diablo fans
a glimpse into the terrors that lurk beneath the world of Sanctuary. . . . While the Eternal
Conflict rages forever onward, horror and superstition of a purely Sanctuary
variety still prey on the hearts of the people. In a time long since
forgotten, the Horadric Order was tasked
with recording local legends, cautionary tales, and stories of the
most twisted horror, in the hope that some innocents might be saved by their
knowledge. Now, the vaults are open.
Direct from the Diablo development
team and horror's preeminent minds comes Tales from the Horadric
Library, a short story collection exploring the darkest corners of
Sanctuary, and the evils that dwell there. This beautiful deluxe book has
original artwork and metallic ink on its illuminated pages.
About the Author
---
Catherynne M. Valente is a New York Times and USA Today Bestselling author of forty books of fantasy and science fiction, including Space Opera, the Fairyland series, Deathless, and The Orphan's Tales. She lives on a small island off the coast of Maine with her partner, one medium-sized dog, one very enormous cat, and a baby son slightly less enormous than the cat (for now).
You are here
Diablo: Tales from the Horadric Library (a Short Story Collection) (Hardcover)