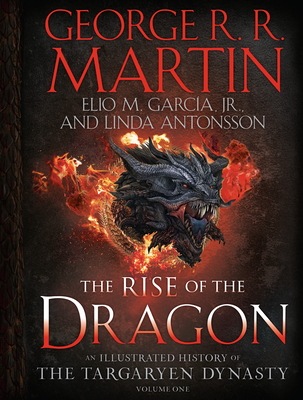 $60.00

Usually Ships in 1-5 Days
Description
---
NEW YORK TIMES BESTSELLER • This lavish visual history—featuring over 180 all-new illustrations—is a stunning introduction to House Targaryen, the iconic family at the heart of HBO's Game of Thrones prequel series, House of the Dragon.
 
For hundreds of years, the Targaryens sat the Iron Throne of Westeros while their dragons ruled the skies. The story of the only family of dragonlords to survive Valyria's Doom is a tale of twisty politics, alliances and betrayals, and acts both noble and craven. The Rise of the Dragon chronicles the creation and rise of Targaryen power in Westeros, covering the history first told in George R. R. Martin's epic Fire & Blood, from Aegon Targaryen's conquest of Westeros through to the infamous Dance of the Dragons—the bloody civil war that nearly undid Targaryen rule for good.
 
Packed with all-new artwork, the Targaryens—and their dragons—come vividly to life in this deluxe reference book. Perfect for fans steeped in the lore of Westeros, as well as those who first meet the Targaryens in the HBO series House of the Dragon, The Rise of the Dragon provides a must-have overview for anyone looking to learn more about the most powerful family in Westeros.
About the Author
---
George R. R. Martin is the #1 New York Times bestselling author of many novels, including those of the acclaimed series A Song of Ice and Fire—A Game of Thrones, A Clash of Kings, A Storm of Swords, A Feast for Crows, and A Dance with Dragons—as well as related works such as Fire & Blood, A Knight of the Seven Kingdoms, and The World of Ice & Fire, with Elio M. García, Jr., and Linda Antonsson. Other novels include Tuf Voyaging, Fevre Dream, The Armageddon Rag, Dying of the Light, Windhaven (with Lisa Tuttle), and Dreamsongs Volumes I and II. As a writer-producer, he has worked on The Twilight Zone, Beauty and the Beast, and various feature films and pilots that were never made. He lives with his lovely wife, Parris, in Santa Fe, New Mexico.

Elio M. García, Jr., and Linda Antonsson founded and run the popular Westeros fansite, which is the definitive source for all things George R. R. Martin.
Praise For…
---
"Every page of this book is filled with something beautiful to look at . . . a book that any collector of fantasy and fantasy artwork should have on their shelves."—Forbes
 
"A breathtaking look at the Targaryen Dynasty."—Collider
You are here
The Rise of the Dragon: An Illustrated History of the Targaryen Dynasty, Volume One (The Targaryen Dynasty: The House of the Dragon) (Hardcover)