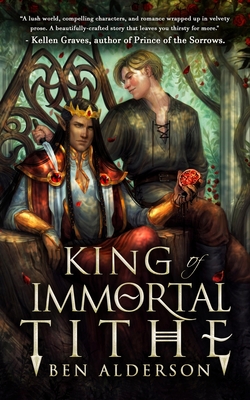 $19.19

Usually Ships in 1-5 Days
Description
---
Human. Arlo Grey will do anything to fend off the sickness that longs to destroy him. To uphold the promise he made to his parents, ensuring the protection of his sister from the world and its dangers. Especially if the dangers come in the form of elves from a realm beyond that of the human world.
Elf. Faenir Evelina is scorned for the murder of his family. Forced by the bitter Queen to partake in the Choosing, he discovers a single person who can resist the deadly grace of his touch.
It has been many years since the vampiric disease spread wildly across Darkmourn, making humans a rarity. And protection from the undead comes at a cost, one that Arlo is forced to pay when he is stolen by the Prince of Death.
Arlo finds himself tangled in a web of secrecy, family politics and unbridled magic when he comes face to face with the impending doom... his truth.
King of Immortal Tithe is a complete, M/M *stand-alone novel*, inspired by Hades x Persephone... but if Hades fell in love with Persephone's brother instead.
You are here
King of Immortal Tithe (Paperback)