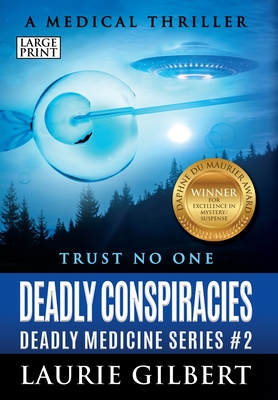 $37.49

Usually Ships in 1-5 Days
Description
---
Winner of the Daphne du Maurier Award for Excellence in Mystery/Suspense Paranormal Category
Infertility specialist, Dr. Kristen Singer, has dedicated her life to helping women like herself who desperately want a child of their own. When her lab is destroyed, she wants to know who's responsible and why they made sure she alone survived. A new position opens for her that seems too good to be true, and she soon learns it is when her determination to find justice puts more than her work in jeopardy.
The use of military grade explosives to destroy a local medical research lab doesn't add up for Quinn Rafferty, a once respected investigative reporter and ex-Air Force Pilot. Though his career is in shambles after being disenfranchised by his peers for reporting a UFO sighting, his passion for uncovering the truth remains strong. When he learns who provided the connection to Kristen's new job, he suspects they are both being manipulated by the same people. Last time, he chose to go searching for the truth. This time, he doesn't have a choice.
"Laurie Gilbert's extensive experience in the medical field delivers a chillingly believable story. The emotional, action-packed opening sucked me in and kept me reading. The main characters are easy to empathize with and cheer for. A fast-paced thriller with a satisfying, heartwarming ending." --from Cindy Hiday, author of DESTIATION STARDUST and winner of the Kay Snow Award for Fiction - on Deadly Images.
Deadly Medicine Series: Traditional medical thrillers with a what if element...
The stories all start in or around Portland, Oregon, where local physicians face challenges they couldn't have anticipated and test their convictions in ways unimagined. Though the stories are chronologically dated, each book stands alone and can be read in any order.
You are here
Deadly Conspiracies: A Medical Thriller Large Print Edition (Large Print / Hardcover)