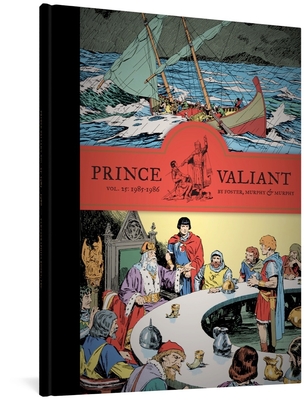 $39.99
Email or call for price
Description
---
Fantagraphics is proud to present the 25th volume of one of the most enduring comic strips, based on Arthurian legend, ever created.
As this latest collection begins, Val and Arn are in Lappland, where they get involved with two twin brothers' struggle over succession. Arn consults a mystical hermit about whether his destiny intertwines with Maeve's, the daughter of an arch-enemy. With the sinister Mordred in control of Camelot, Val and Aleta seek to raise an army; this goal requires Val to capture a notorious outlaw, battle a troll, and find a hidden treasure. Arthur's forces come together at High Cross, and he wages an epic battle for the fate of Camelot, during which Arn becomes a knight of the round table. Also included, Prince Valiant writer Cullen Murphy and colorist Meg Murphy pay tribute to their mother, Joan, model for Aleta and other female characters for their father.
About the Author
---
Hal Foster (1892-1982) created Prince Valiant in 1937. Though remaining involved with the strip until his death in 1982, Foster handed the bulk of the scripting and art chores over to his longtime assistant, John Cullen Murphy, in 1971.

John Cullen Murphy, a six-time recipient of the National Cartoonists Society's "Best Story Strip" for his work on Prince Valiant, continues to draw the strip from his home in Connecticut, while his son, Cullen Murphy, writes the strip in between serving as the Managing Editor for The Atlantic.

Cullen Murphy served as managing editor for The Atlantic from 1985–2006 and is currently an editor at large for Vanity Fair. Beginning in the 1970s, Murphy collaborated with his father, John Cullen Murphy, on the Prince Valiant comic strip.
You are here
Prince Valiant Vol. 25: 1985-1986 (Hardcover)